SIETAR USA CALL FOR NOMINATIONS!
Aug 02, 2023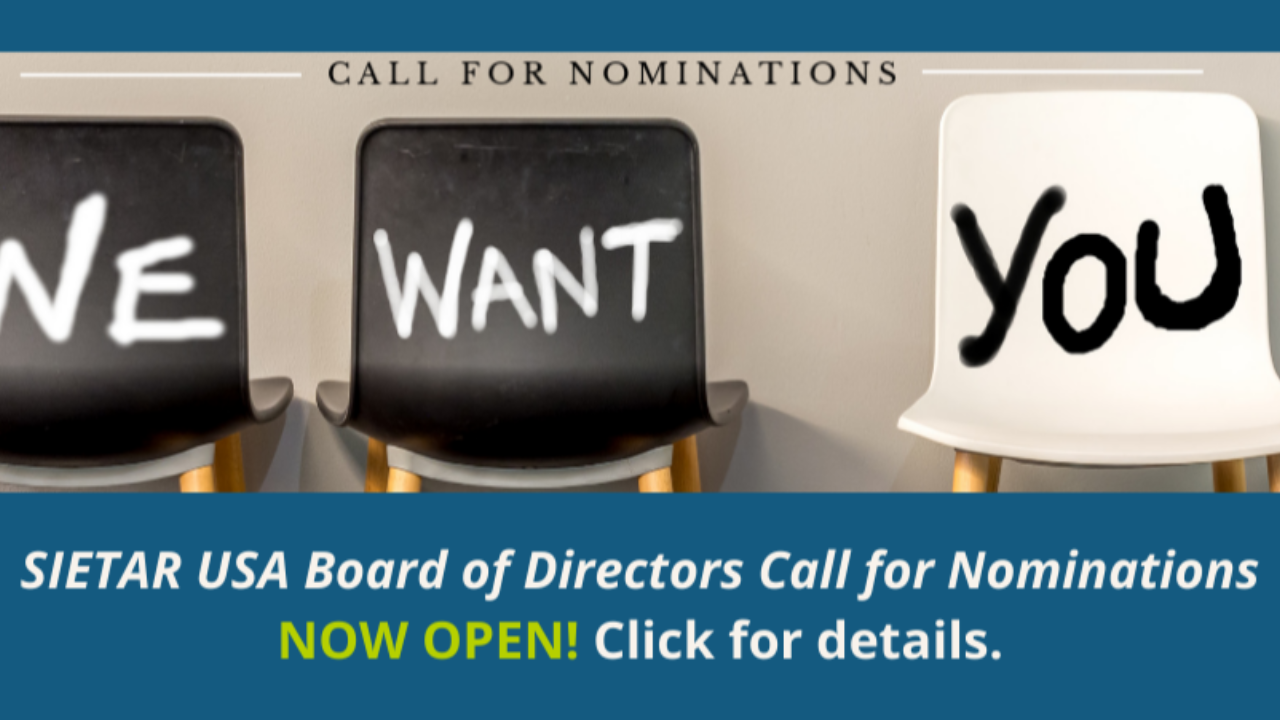 4-Aug-2023
Dear SIETAR USA members and colleagues,
The future of SIETAR USA depends on its members to support its mission and to provide the leadership to guide the organization. To that end, we are issuing the 2023 Call for Nominations for the Board of Directors of SIETAR USA.
The SIETAR USA leadership team values diversity in all of its forms and is committed to creating and fostering an inclusive environment for all SIETAR USA members. We invite and encourage all members of our community to participate in the Board of Directors election process to support our efforts to cultivate a culture that embraces and values diversity, equity and inclusion.
You may nominate yourself or another member of the organization. Any candidate for Board positions must meet the following criteria in addition to role-specific requirements listed in each position description.
Possess a strong background and understanding of the intercultural and/or fields of diversity, equity, inclusion, and belonging (DEI).
Be a member in good standing with SIETAR USA (or willing to become a member)
Be a member who has attended at least one SIETAR USA conference in the past five years.
Open Positions in This Call
There are a total of five (5) board positions open for nominations in 2023:
The Communications Director is responsible for all aspects of the association's digital and/or print presence and messaging, including website updates, email blasts, social media channels, and articles or newsletters as deemed appropriate. This person is also responsible for oversight of the Communications Committee.
The Leadership Development Director is responsible for developing and maintaining a path to leadership within the association. This entails identifying potential candidates for leadership roles on the Board of Directors or committees, task forces and other association activities requiring good management and direction. This role is also responsible for the management and oversight of the annual Call For Nominations and election processes.
The Sponsor/Partnership Development Director is responsible for building relationships between individuals, companies, and institutions and SIETAR USA to secure ongoing funding and support for the annual conference and other activities throughout the year. This individual will manage the process of initiating, directing, and supporting the relationships with sponsors and association partners, highlighting their support, and providing them with good value for their investment in SIETAR USA.
The President Elect shall succeed the President. If, for any reason, the President cannot serve out a term, the President-elect shall fulfill the unexpired term and continue through his/her own term. The President Elect also serves for one (1) year as Immediate Past President following their tenure as President. The President Elect also serves on the SIETAR USA Executive Committee.
The Secretary is responsible for working with SIETAR USA staff to ensure Board compliance with all aspects of 501(c)(3) leadership, including meeting minutes, Board meeting management, and new Board member onboarding. The Secretary also serves on the SIETAR USA Executive Committee.
Detailed position descriptions for these roles will be posted shortly on the SIETAR USA website.
Nomination Submission Deadline
All nominations must be submitted using the form provided at this link: 2023 Nominations Form by: Friday, September 1, 2023 @ 5 PM CST.
By submitting your statement, you agree to serve out your full term and to abide by the Bylaws of SIETAR USA if selected.
Process
The Nominations Committee identifies candidates through a nomination process for each position based on the required skill and knowledge sets needed for each position. This slate is then announced to the members of SIETAR USA. If there is more than one candidate for a position, an election will be held.
Term of Service
New Board members in the roles of Communications Director and Leadership Development Director will serve a three-year term starting January 1, 2024 through December 31, 2026 and carry responsibilities for the portfolio for which they were elected.
The role of Secretary for the 2023 election requires a commitment of two (2) years to fill out the complete term of an appointment made at the beginning of 2023. (Term ends December 31, 2025.)
The role of President Elect requires a commitment of four (4) years. That individual will serve a term of one (1) year as President Elect, and then ascend to the role of President for a period of two (2) years. Following their tenure as President, their role shift to that of Immediate Past President. (Full term ends December 31, 2027.)
Upon completion of a three-year term, every board member can choose to self-nominate for three more years of the same or a different board position and go through the nomination process as any new candidate would during that same nomination cycle. According to the Bylaws, SIETAR USA Board membership generally cannot exceed nine (9) consecutive years.
General Duties of Members of the Board of Directors
Board members serve a three-year term (unless noted otherwise) and carry responsibilities for the portfolio to which they are appointed.
Board members must sign and abide by the Board Code of Ethics and Conflict of Interest documents. As with all members of the society, they are encouraged to support and sign the Living Code of Ethics.
Board members are expected to attend the SIETAR USA Annual Conference, the Annual Board Meeting (a one-day in-person meeting before or after the conference), and the Board of Directors Annual Retreat (a three-day business meeting held each year in February or March).
Board members are expected to participate in monthly Board of Directors teleconference meetings.
We look forward to your responses to this Call for Nominations and your participation in this process. Feel free to contact us with any questions at [email protected] or [email protected].
Thank you for supporting SIETAR USA!